Win a Huge Basket full of Oregon Goodies!
Grand Prize valued at over $1000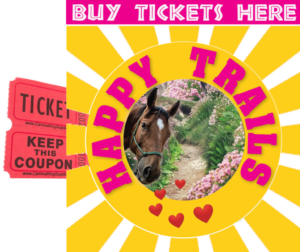 Click Image Above to Buy Your Tickets


1 for $25, 5 for $100, 12 for $200

Upon purchase you will be routed to  ridingbeyond.org/raffle-tickets/ to enter important information and receive details of the drawing.

Winning tickets will be drawn June 3 at 10 am.  Ticket purchasers will receive an invitation via email by Thursday June 1.
OR – If you prefer to support Riding Beyond with a tax deductible donation, CLICK HERE. Or send a check to Riding Beyond, PO Box 1281, Ashland, OR 97520.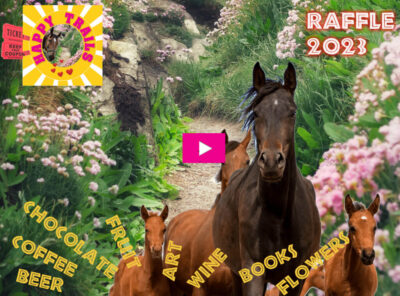 Video credit: Denise Ross
Travel Your Favorite Trails with a Rogue Valley Basket of Plenty
Win a Huge Basket full of Oregon Goodies!
Fruit, Flowers, Wine, Coffee, Beer, Chocolate, Art, Books and more.
Grand Prize valued at over $1500, and 4 others at about $1000 each

Wth the cost of feed and hay as well as farrier and veterinary services skyrocketing in the past two years, it's time for us to refill our coffers to continue excellent care for our horses and sustenance of our programs.
We have gathered gifts from our generous Rogue Valley resources for filling several Happy Trails Baskets with items from this growing list of items:
BOOKS: A Field Guide to Humans, signed by Frank DeLuca, PhD | Ashland Day Trips, by Barbra Tricarico | The Smallest Horse by Lori List & Amanda Holbrook | The Great Silent Grandmother Gathering by Sharon Mehdi | Rogue Valley Metaphysical Library, annual membership
ART: Drawing on the Dream, greeting cards | The Hen's Tooth, greeting cards | Lisa Nelson, greeting cards | Nina Council, greeting cards | Nancy Bardos, J'ville pillow and metal wall art | Erin Linton, art assortment | Joann George, signed print | Amistad, figurine
WINE/BEER: California Refined, Cabernet Sauvignon | Grizzly Peak, Cabernet Franc and White Cabernet Franc | Dancin Vineyards, wine tasting and appetizers for four | Growler Guys, 32oz and 64oz growlers
FLOWERS: Wizard's Way Flower Farm, $50 gift card| Rogue Mountain Eufloria, $25 gift certificate
DELECTABLE EDIBLES: Trader Joe's, gourmet snacks | Cartwright's Market, picnic condiments | Shop'N Kart, $100 gift card | Brickroom, $75 gift card
BEAUTY and HEALTH: Bridget Cline Photography, photo session | Dr. Mark Force, Elements of Health, Initial Consultation | Be Cherished Salon, Aveda beauty products | Liz Ellingson, necklace | Trotting Fox Boutique, $50 gift certificate | Silver Rock Design, necklace | Elements Salon, 1 hr massage | L'Unica Skincare and Sugaring, facial
ENTERTAINMENT: Britt Festival, tickets | Pacific Arts Ensemble, CD's | Jackson County Expo, event tickets | Moonbow Archery, Introductory Training | Shelly Cox, 1hr pickleball instruction | Ashland Arial Arts, event entertainment | Funagain Games, games | Northwest Nature Shop, travel mugs, wine glass stakes | The Handlebar, bike helmet, socks, bike tuneup, water bottle, bike tube | Animal Medical Hospital: collapsible cooler
PETS: Triple Crown Feed and Supply, gift card | Wellness Pet Supplies, pet tummy care supplies
GARDEN: Grange CO-OP, $100 gift card | Home Depot, garden supplies collection | Ashland Ace Hardware, cordless drill and driver set | Animal Medical Hospital: wind spinner

Your ticket(s) give you a chance to win a ROGUE VALLEY HUGE BASKET OF PLENTY filled with items worth more than $1000 in goodies, from those listed above!
Winning tickets drawn on Zoom Saturday, June 3, 10 am. Winners will be contacted if not in attendance.
We greatly appreciate your contribution to our Happy Trails Raffle and being an important part of sharing Riding Beyond's regenerative gifts of the horse/human connection with the people of the Rogue Valley.
THANK YOU TO OUR GROWING HERD OF SPONSORS